Unparalleled eClinical Interoperability
Discover what sets TrialStat apart from ordinary Data Management Technologies: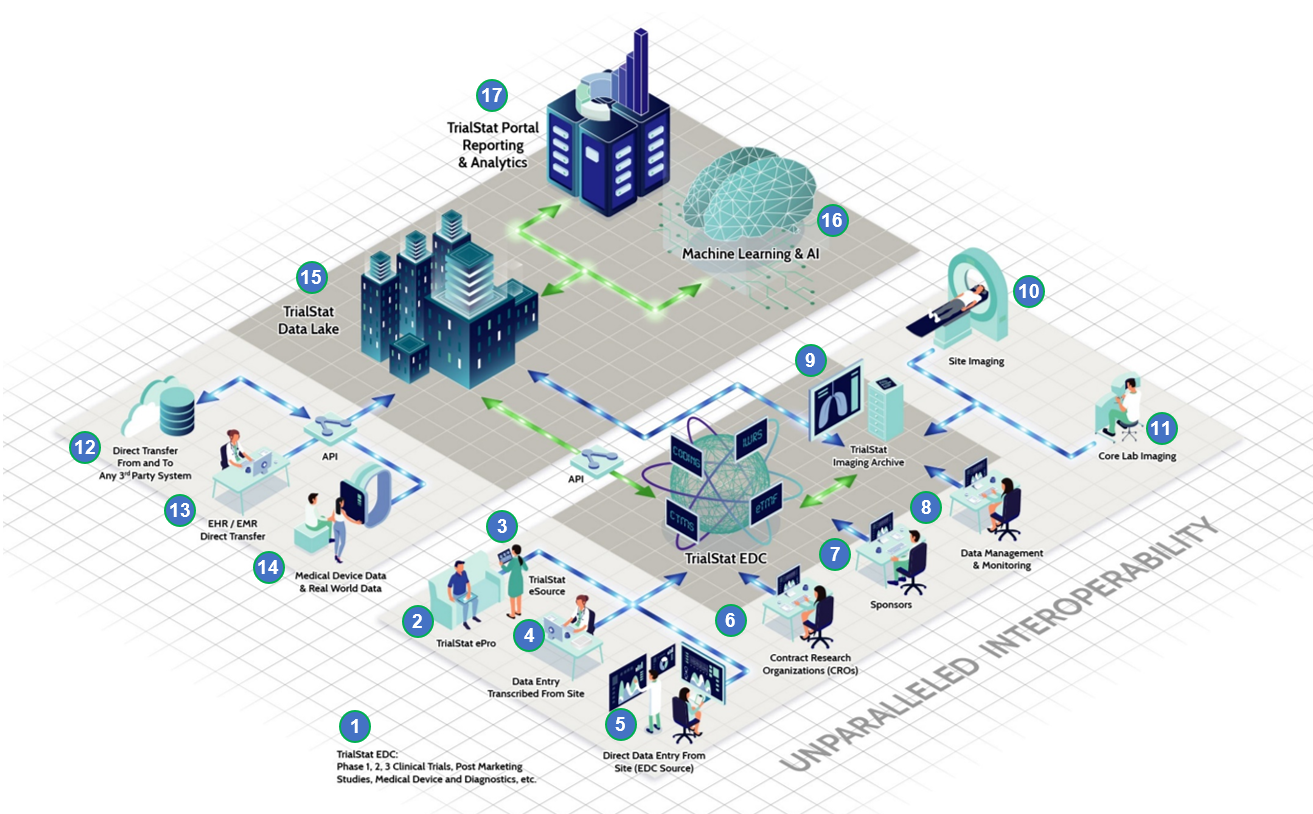 A Fully Unified eClinical Suite with Premium Features and Capabilities
Supports preclinical feasibility / proof concept studies, phase 1, 2 and 3, post marketing / surveillance studies as well as Medical Device Studies, Diagnostics and more. With integrated features such as Randomization, Medical Coding, ePRO, AE/SAE tracking, Imaging, Adjudication and Real-Time Analytics and Reporting you only need a single platform for all of your studies.
TrialStat has a native ePRO module for capturing patient reported outcomes and can integrate with 3rd party ePRO products and services.
TrialStat is fully eSource compliant, allowing sites to enter data directly into EDC, or through their EMR where it can be pushed electronically into EDC.
Sites are also able to perform their data entry directly into EDC quickly and easily due to our low latency user experience.
All users have role-based access to their Reporting and Analytics Portal allowing them to see relevant data in real-time.
CROs can insource TrialStat EDC and become Certified Study Designers so that they can design and manage their own studies.
Sponsors can log in and review key study reporting and metrics.
Data Managers have the features they need to monitor, manage, and review study data including integrated Medical Coding, etc.
TrialStat has a Vendor Neutral Imaging Archive for capturing medical imaging for adjudication, and machine learning.
Medical Imaging can be captured directly from the site, de-identified, and then routed to the Imaging Core Lab, or in reverse.
Medical Imaging can be captured from the Imaging Core Lab and then routed into EDC.
TrialStat EDC supports full integration with 3rd party systems to consume or share clinical trial data and study meta-data.
TrialStat EDC integrates with EMR / EHR systems to allow patient data to be securely pushed into EDC.
TrialStat EDC has a robust API for integrating with validated wearable medical devices to capture vital signs, quality of life metrics, ECG readings and more.
TrialStat provides a Clinical Data Warehouse (Data Lake) for aggregating clinical trial data for access post study close, and for use in bespoke machine learning programs. Any prior clinical studies can be loaded regardless of which EDC was used for the study.
TrialStat provides bespoke Machine Learning programs for Sponsors using our in-house team and ML programs. In addition, TrialStat can integrate validated 3rd Party ML programs into the platform for use in clinical trials.
TrialStat's Reporting and Analytics portal provides customizable, role-based dashboards showing Sponsors and CROs a roll up of all of their clinical trial metrics, as well as detailed study specific metrics, insights and data points.
Request Your Personalized Demo. Our Clinical Team will organize a tailored demonstration of TrialStat based on your specific study requirements.  You'll see first hand how TrialStats unified features, blazing speed, configurable features and comprehensive functionality will help you run more efficient and cost effective studies.