Electronic Data Capture Designed For Your Needs
Streamline and simplify your clinical data management with a flexible suite of tools.
Compared to other EDC solutions on the market from MediData, DataTrack, Omnicomm and others, TrialStat is the most all-encompassing suite of study management tools that can be seamlessly connected to external data sources such as EMR, wearables, and other clinical and non-clinical data and information sources.
TrialStat offers a fully unified platform suitable for all phases and types of trials. Our single-sign-on, multi-tenant EDC suite includes modules for Randomization, Adjudication, Coding, Safety, Patient Diaries/ePRO, Vendor Neutral Imaging Archive, a robust Reporting and Analytics Portal and custom Machine Learning programs.
With a focus on data analytics, TrialStat offers real-time reporting, data extracts on demand, and analytics across a single study, a program, or your entire research portfolio – providing all stakeholders relevant, customized, timely insight into all aspects of study data and highlighting areas of risk or potential delays.
"Plus Therapeutics found a reliable, scalable partner in TrialStat Solutions as we transition from manual processes. Their unified eClinical suite simplifies data collection, provides real-time insights, and offers modular features and functions that will allow us to expand into their cost-effective system as we grow. Their dedication to innovation and customer satisfaction is crucial to our success and we highly recommend them."
- Norman LaFrance, Chief Medical Officer, SVP, Plus Therapeutics
"Dear Heather and Jeff,
I hope this email finds you both well. On behalf of the Plus Therapeutics team, I am grateful to both of you for hosting the exceptional onboarding EDC training for the Plus Therapeutics team and our site staff yesterday. Your expertise and dedication truly shone through, and it was a fantastic learning experience for all of us."
-Rosemary Afful, Senior Clinical Research Associate, Plus Therapeutics
"If you ask the TrialStat team a question, the answer is never "No", but "let's see how we can accomplish that!"
- Colin Miller, CEO, The Bracken Group
"The knowledgeable team at TrialStat worked with us to develop a validated custom web application, integrated with both EDC and our internal systems, that streamlines workflow and maximizes our team's productivity. We can collect and manage trial data in a more timely and efficient manner now, which makes our clients happy too."
- Judi Hall, VP Clinical Research at Alimentiv
Explore Our Advanced Modules & Capabilities
Accelerate clinical trial enrolment and maximize protocol compliance by leveraging TrialStat's comprehensive and immersive eConsent platform. Fully configurable workflows, including support for witnesses, assent, re-consent, and the ability for patients to revoke consent.
TrialStat's eConsent is fully integrated with TrialStat's EDC for added performance, but can be used with other EDC platforms if needed!
Click the diagram below to explore all of the features of the TrialStat eClinical Suite.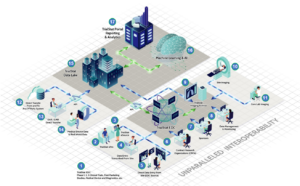 Vendor Neutral Imaging Archive
3rd Party Systems Integration
Study Design and Validated Development
From rapid database build through database lock, we deliver consistent quality on-time and on-budget. Ready to upgrade your eClinical toolkit?
A Fully Unified eClinical Suite with Premium Features and Capabilities
eClinical Technology Powered by PureStorage FlashArray
Download the newly released case study and explore why TrialStat has partnered with PureStorage to dramatically improve the performance of our eClinical Suite resulting in faster clinical trials.
A Fully Unified eClinical Suite with Premium Features and Capabilities
Request Your Personalized Demo. Our Clinical Team will organize a tailored demonstration of TrialStat based on your specific study requirements. You'll see first hand how TrialStats unified features, blazing speed, configurable features and comprehensive functionality will help you run more efficient and cost effective studies.