Decisions, Decisions! 3 good questions to ask when considering new eClinical Technology.
For 2023, we're taking our blog in a new direction with more content directly from our team, more detailed information for our readers answering common questions we get, and helpful expert information and ideas you can use. We hope you enjoy this new approach.
For this week, we're covering an introduction (or refresher) to TrialStat Solutions and three key considerations that might be helpful for those of you reading who are currently looking for a new EDC platform.
Let's go!
You may be familiar with TrialStat already, but if not, we have been supporting studies globally for more than 20 years with our flexible, easy-to-use, module-based eClinical tools built on the premise that interoperability should be available to everyone, without lengthy integration timelines and over priced contracts to make disparate systems work together (and even then, often not easily or seamlessly).
We have created an infographic / diagram to guide you through our entire technology and services ecosystem. If you have any questions or comments, please reach out our team!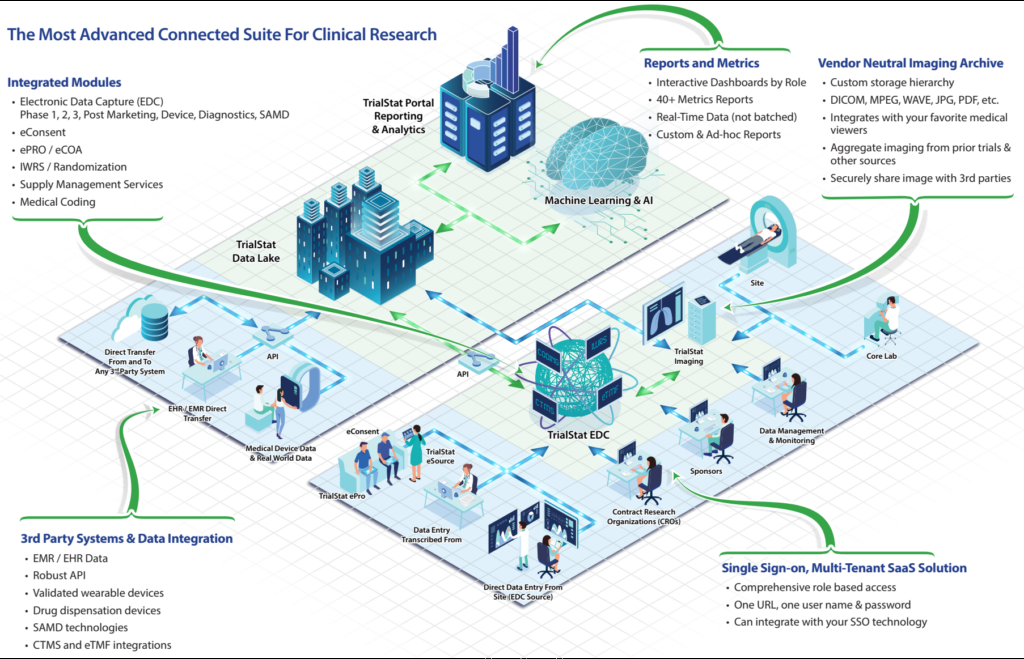 As the world of clinical research evolves and adapts to new regulations, a changing research landscape, budget challenges, and a burst of new technologies in the market, being able to easily find and evaluate the right technology for your unique needs has become more and more complex.
TrialStat understands the challenge facing busy clinical research teams to keep up with technology changes and to understand what differentiates tools and platforms in our space.
So let's talk about the key differentiators you can look for and where TrialStat can help.
We understand that the end goals for any research team when selecting the right tools are happy, productive sites who enter data promptly, a system that supports a robust workflow for data quality review and reporting, and ultimately that it can put real-time, actionable information at the fingertips of your clinical team who are making decisions that can ultimately lead to the success or failure of your study.
This choice matters, so let's explore some good questions to ask as you are exploring your options!
1. Does the offering you are looking at support all the requirements of your study, or will you need to spend significant time going through the vendor evaluation and selection process for many vendors to get the tools you need?
Disconnected systems mean more complexity, additional vendors to evaluate and manage (including those complicated MSAs to sort out for each!), and often duplication of work in various tools to achieve the end results your team needs. To connect them, costly and time consuming work must be done and these fixes often still aren't able to provide the same speed, real-time data handling, and ease of use that a single, flexible platform can offer.
While you may just be starting out and looking for something that can work for a single site study, thinking longer term for your entire portfolio and potential needs in the next year, five years, or more, often changes the criteria for what would be the ideal solution for your organization. And it doesn't have to mean excessive spending on tools you don't need up front!
TrialStat eClinical Suite already includes industry-leading electronic data capture (EDC) including eSource, integrated eConsent, ePRO, randomization, supply management, lab import management, and medical coding. We even have a vendor neutral imaging archive for handling and storage of medical imaging, and standard and customizable (by your team) reporting and exports that are always on demand, and in real-time.
Our comprehensive suite is modular and can grow with your needs, so you only pay for the functions you need at the time you need them, ensuring that you can keep your budget in line while taking advantage of the latest in eClinical technology to ensure all relevant data is in one place and easily accessible and understandable, providing clear, timely, and actionable insights for your team!
2. Does the platform meet your needs now but also in the future?
Many systems have a client 'sweet spot', they have built the system for specific types of research or for projects with limited size and scope. A tool that is built for institutional research or a single-site start-up biotech might not have easily expandable features that could also serve the needs of a global, multi-site Phase III oncology trial.
TrialStat has always been designed for robust data handling from pre-clinical through to post-market, making it the right choice for life sciences companies and CROs looking for a cost-effective platform that can grow with their clinical needs, even if they aren't sure what they are yet!
No more switching tools mid-program and paying to rebuild studies in a new EDC or having to retrain teams on yet another new tool.
We'll be talking more about growing into the right technology in more detail in our next post, so stay tuned if this is of particular interest to you!
3. Is the system developed and enhanced hand-in-hand with sponsors, sites, and partners?
The best feedback to drive innovation comes from you, the user.
TrialStat has always made user-feedback and custom design and feature requests a core of our improvement model. You work in these tools every day and know what will make your day easier and your data better. The foundation of our updates, and how we prioritize key new features is strongly guided by our clients. Does your current vendor have a integrated process for receiving, evaluating and implementing your product feature requests?
---
These are just a few considerations to get started, and we'll be covering many more in future posts, but if you'd like some help right now in thinking through your needs and understanding how this approach can serve you better, drop us a note and we'll schedule some time to talk in detail.
Please explore the infographic below to see how a complete solution for all your clinical research data management needs works. It's a game-changer!
Discover What Sets TrialStat Apart From Ordinary EDC Platforms
Click the image or button below to explore our eClinical Suite Platform and discover what sets TrialStat apart from competing EDC platforms.
From rapid database build through database lock, we deliver consistent quality on-time and on-budget. Ready to upgrade your eClinical toolkit?